About the Organization
The Mt. Washington Jessica Neighborhood is a nonprofit corporation founded in 2014 to promote "Neighbor Helping Neighbor."   MWJN was created to support residents, homeowners, and community groups for disaster preparedness, neighborhood awareness, safety and welfare through educational events, exercises, beautification and improvement projects, and other activities that benefit our community. We do not have "members".
The organization is managed by the Board of Directors and operated by various committees. We are not a membership organization. We operate on donations and grants and offer our programs to our neighbors free of charge. We do rely on volunteers. If you are interested in participating, contact us at info@mtwashingtonjessica.org.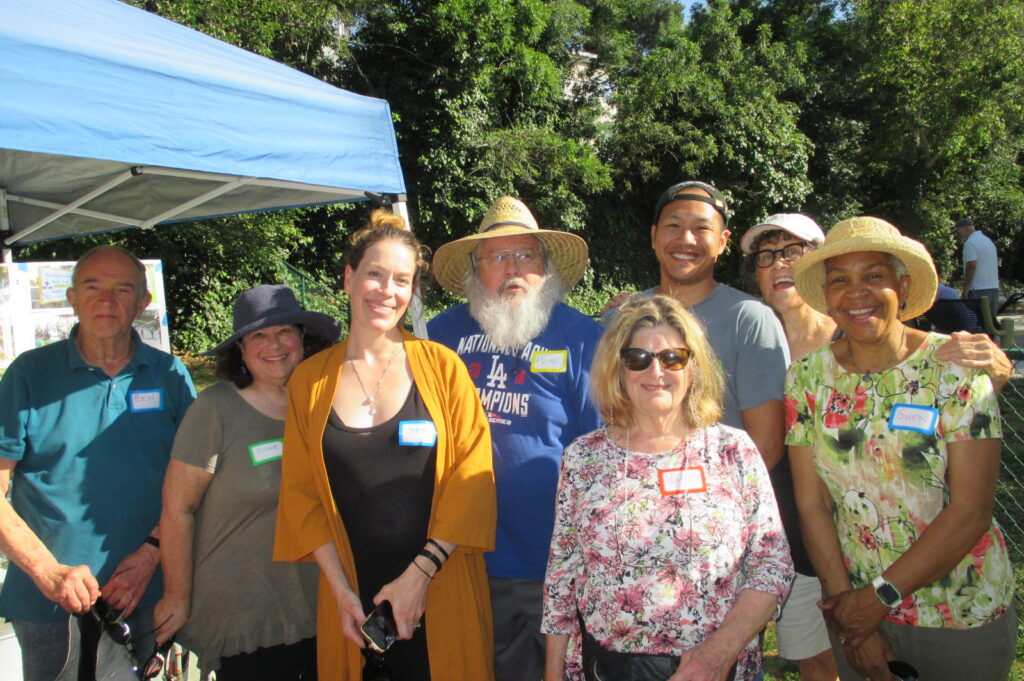 Current Board of Directors includes ( L-R): Ben Park (Sec/Tres), Diane Friedman, Sarah Bui, Pierre Landry (President), Nancy Nickerson (VP), Andrew Bui, Nerice Zavala (VP) and Gwen Poindexter.
We are eternally indebted to our now late founding member, Sharal Churchill whose memory guides us still.
About the Area
The Mount Washington Jessica Neighborhood of Los Angeles is roughly bounded by Division Street on the West, El Paso on the Northeast, and San Rafael Avenue on the Southeast.
The area is under the jurisdiction of the Arroyo Seco Neighborhood Council, and is located in Los Angeles City Council District 1 and Los Angeles County Supervisorial District 1.
The area is named for the landmark at the intersection of Jessica Drive and Cleland Avenue known as "Jessica Triangle". Beginning in the late 90′s, local residents helped transform the triangle from a litter-strewn patch of asphalt to a beautifully landscaped drought-tolerant pocket park.
You can read the inspiring story in Highland Park-Mount Washington Patch.