Winetasting Fundraiser for Mt. Washington Jessica Neighborhood, Inc.
Featuring wines from Byron Blatty Wines and small bites from Radical Cooks
The theme is "Terroir" a term used to describe the influence of the soil and environmental factors on the character of grapes/wine. In this instance, it's being used more broadly to reference the influence of the topography, flora & fauna of Mt. Washington and in fact the people who live here on the character of the neighborhood of Mt. Washington Jessica.
We sampled 3 different wines paired with 3 different small bites chosen to complement the wines. We will also have a Silent Auction with exciting wine and food items donated by our stars as well as some useful preparedness items from MWJN.
Wines will be offered for sale at the event (stock up for Thanksgiving) with Byron Blatty Wines offering a 10% discount on any wines purchased at the event. An additional 10% will be donated to Mt. Washington Jessica, Inc. Win-win-win!
This event is for fully vaccinated neighbors over the age of 21.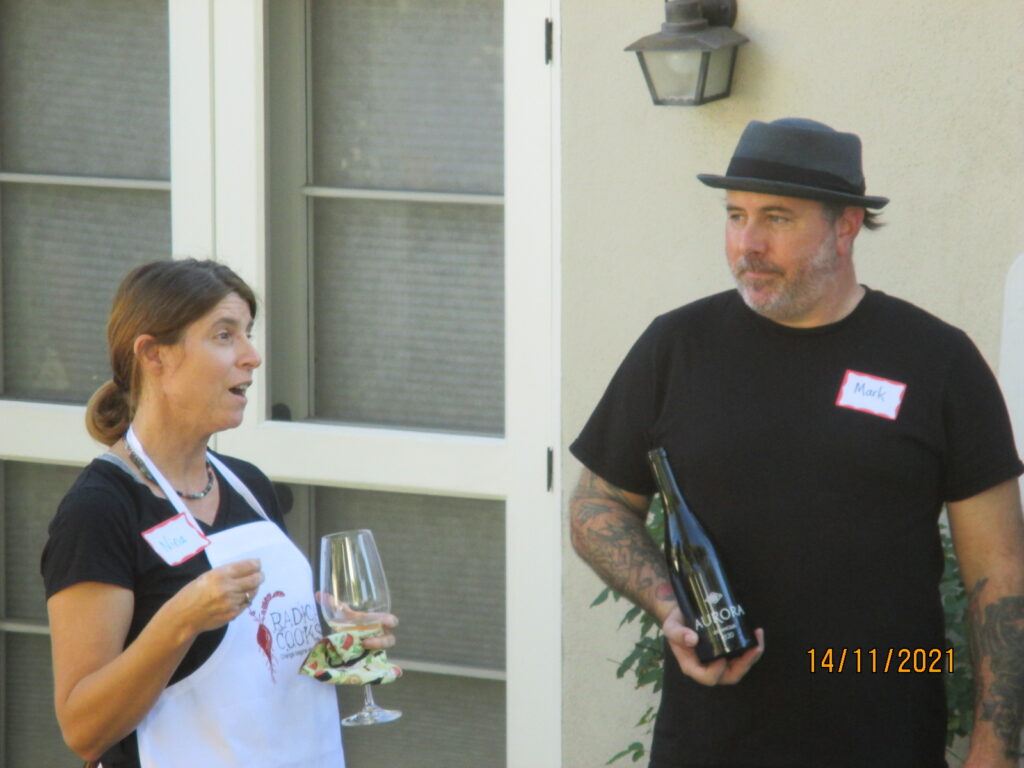 We have long wanted to host a winetasting fundraiser for MWJN, Inc. We are so privileged to have Mark and Jenny Blatty of Byron Blatty Wines in our neighborhood, single handedly rewriting the story of LA Winemaking. We are also very lucky to have Nina Zippay of Radical Cooks who caters international corporate events but got her start doing cooking classes for local girl scouts. Mark, Jenny and Nina all focus on high quality products from the local bounty that is Los Angeles, and we believe the Terroir of our immediate neighborhood is also instrumental in shaping the character of our neighbors. The history, the geography, the microclimate, the unique flora and fauna and indeed the people as well all shape our existence here in Mt. Washington Jessica Neighborhood.
MARK & JENNY BLATTY – BYRON BLATTY WINES
In the late 1800s, vineyards lined the banks of the LA River and dotted the area, supplying the grapes for the finest wines in the state. But by the early 1930s, the impact of the Gold Rush, an outbreak of Pierce's disease, and the scourge of Prohibition had nearly wiped out LA's vineyards, which were converted to citrus groves, replanted to other crops, or cleared for urban development.
Mark & Jenny Blatty are at the forefront of SoCal's re-emerging wine scene and are committed to producing world-class wines in Los Angeles.
NINA ZIPPAY – RADICAL COOKS
Cooking with local, seasonal ingredients is something we all aspire to. It celebrates where you live, allows you to meet your farmers at the market, and helps you eat a wider range of fruits and vegetables. According to traditional Chinese medicine philosophies, by imbibing seasonal foods consistent with the external environment we remain in harmony with nature, adapt better to changes, and stay healthy. But most of us don't know how to start or how to sustain such practices. Radical Cooks believes all change starts at the root, or the base level of what we eat and how we make it.
We specialize in plant-based cooking and are known for putting vegetables into each and every course. And yes, that includes dessert!
Mt. Washington Jessica Neighborhood, Inc.
MWJN is a 501c(3) nonprofit corporation founded in 2014 to promote "Neighbor Helping Neighbor." MWJN was created to support residents, homeowners, and community groups for disaster preparedness, neighborhood awareness, safety and welfare through educational events, exercises, beautification and improvement projects, and other activities that benefit our community. Donations from the Winetasting fundraiser will support these activites.
Our Board of Directors loves our neighborhood and our neighbors. What better way to celebrate than with some local wine and bites.
http://mtwashingtonjessica.org
Tickets were $30 per person and the event was capped at a maximum of 50 people. The event was totally sold out.
This event was for fully vaccinated neighbors over the age of 21.