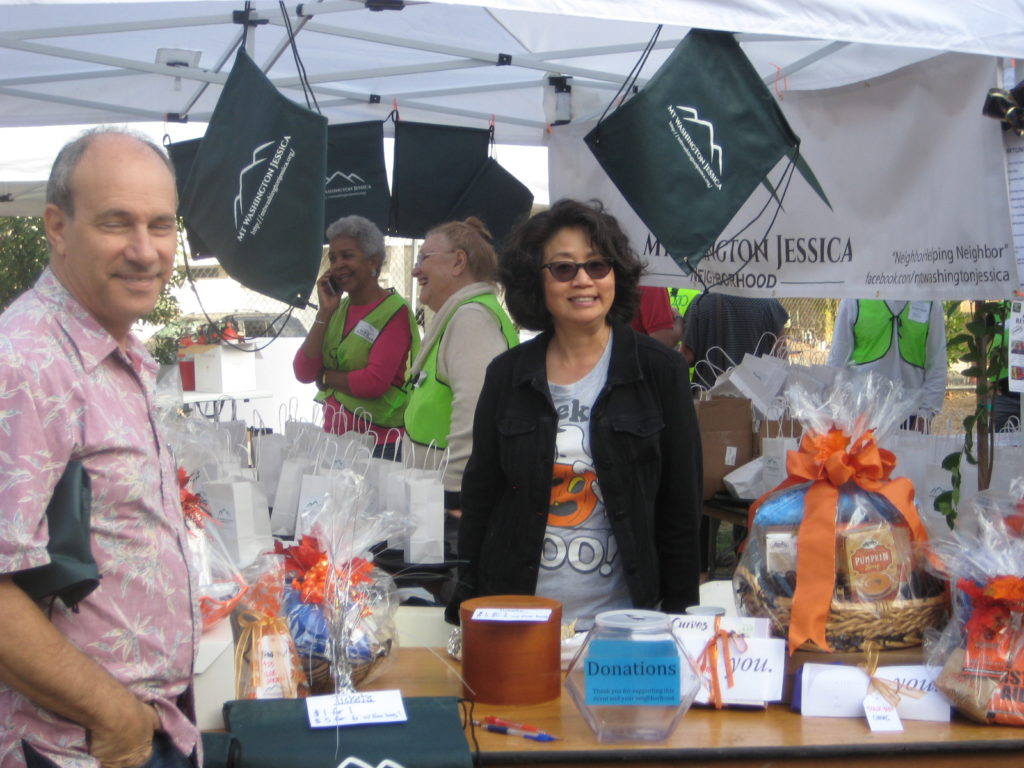 The Fair was a great success on a lovely October morning!  Many neighbors and families came out to learn and have fun. We had useful tips and demonstrations on crime prevention, safety and emergency preparedness for you and your family, including your pets and wonderful prizes!
DEMONSTRATIONS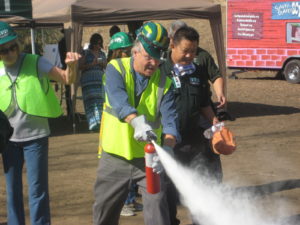 The Fire Extinguisher Demonstration, organized by the Fire Department and CERT Battalion 2, gave everyone a hands-on opportunity to use a real fire extinguisher (but a simulated fire) while receiving  one-on-one coaching.
It was a  great way to learn a skill we hope we never have to use!
Remember:
P is for Pull (Pull the pin)
A is for Aim (Aim at the base of the fire, not the flames)
S is for Squeeze (Squeeze the trigger)
S is for Sweep (Sweep along the base of the fire)
KIDS' ACTIVITIES
Kids had a blast with Face Painting and Crafts and learned about "Drop, Cover and Hold" in the Shakey Quakey House, the LA County Fire Department's educational earthquake simulator. Kids were escorted into the brightly colored trailer filled with grade school desks where they watched a safety video starring Yogi Bear.  Then they experienced a simulated earthquake with stuffed animals falling off the shelves all around them while they hunkered down under the desks. Lots of fun and educational too!
PARTICIPANTS
American Red Cross – Information on preparedness and safety including "Map Your Neighborhood"
Arroyo Seco Neighborhood Council  – your local representatives
Blue Can Water –  50 year shelf-life water
City Council District 1 – Learn how your city representatives can help with neighborhood issues
City Plants – Free Tree Adoption for LA residents
Communications – Jutti Marsh, Ham radio operator with info on how to communicate with relatives in a disaster
Community Emergency Response Team (CERT)

Montecito Heights CERT – emergency equipment demonstrations
Battalion 2 CERT – Info on CERT program, classes, & drills
Central Bureau CERT – Improvised Emergency Equipment

Wirecutter's Best Emergency Preparedness Supplies – Kalee Thompson and Dan Koeppel with reviews of all kinds of disaster gear and supplies
Kids Activities

Face Painting
Crafts – spin art and more
Shakey Quakey Schoolhouse  – LA County Fire Dept. Earthquake Simulator

LA Animal Services SmART Team – Specialized Mobile Animal Response Team
LAFD – Fire Station 55  – Safety info and kiddie photo ops
LAPD – Senior Lead Officers Ochoa, Allen and Chang
Mount Washington Homeowners Alliance (MWHA) – protecting and improving the quality of life in Mount Washington
Mt. Washington Jessica Neighborhood – block by block, Map Your Neighborhood, Keeping Jessica Triangle Beautiful and Pet Preparedness and more

EVENT SPONSORS
Mt. Washington Jessica Neighborhood, Inc.
Councilmember Gilbert Cedillo of CD-1
Arroyo Seco Neighborhood Council (ASNC)


EVENT SUPPORTERS
Blue Can Water
Bobby's Motion Rental & Services
Curves – Eagle Rock
CVS Pharmacy – York Blvd
Holy Virgin Mary Coptic Orthodox Church
La Abeja Restaurant
One Shot DJs
Rosie Bunny Bean
Sprouts – Eagle Rock
Starbucks – York Blvd
Trader Joe's – Eagle Rock

VOLUNTEERS
Thanks to all the volunteers who helped before, during and after the event. It really does take a village!