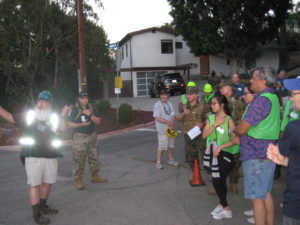 Mt Washington is building Neighborhood Teams and developing Disaster Response Plans.
This meeting will summarize the CERT and Map Your Neighborhood programs, and explain how they can work effectively together.
If you participated in our CERT/MYN Combined Resources Drill in 2017,  you probably saw that there can be a lot of benefit to working together (and that we had a lot to learn to make it go smoothly).  Now we are fine tuning our plan for the entire Mt. Washington Neighborhood.
This meeting is for the community members of Mt. Washington to continue building their community disaster response plan. If you have ever taken a CERT class, or even if you've thought about doing so, please come. This meeting is also for people in Mt. Washington who have had a Map Your Neighborhood block meeting (or want to). Or if you're just interested in learning about Community Disaster Preparedness.
"In a disaster, your most immediate sources of help are the neighbors living around you."  Come learn and be part of the plan to minimize the impact of a disaster.
Thursday, March 14
Holy Virgin Mary Orthodox Coptic Church
4900 Cleland Ave.
LA, CA  90042
7:00-8:30pm
The Meeting is FREE but Please RSVP  on Eventbrite.