CERT Classes Starting Soon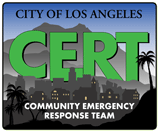 FREE CERT Classes coming up:
Also, if you've previously taken a CERT class, a Refresher Class is being offered on October 16 from 7:30 AM  – 1 PM at the Frank Hotchkin Memorial Training Center on Stadium Way.
Check out all CERT classes being offered in the LA area at Eventbrite.
For further information, you may contact the CERT Unit at (213) 893-9840.