CERT Classes starting January 2016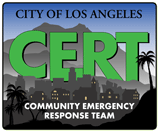 The Community Emergency Response Team Program's concept was developed and implemented by the Los Angeles Fire Department (LAFD) in 1985. The CERT course will benefit any citizen who takes it. This individual will be better prepared to respond to and cope with the aftermath of a disaster.
1/4 – Silverlake – Evenings – 7 Mondays 6:30 -9 pm
1/6 – Hermon – Evenings – 7 Wednesdays 7:00 -9:30 pm
Check out all CERT classes being offered in the LA area at Eventbrite.
For further information, you may contact the CERT Unit at (213) 893-9840.