Map Your Neighborhood Facilitator Traning 6/24
Monday, June 24 from 7-9pm at the Coptic Church – a Map Your Neighborhood Facilitator Training Class will be taught by Ben Park, a Red Cross certified trainer.  Ben has systematically brought MYN to much of our area. If you are tired of waiting for Ben to have time to come facilitate a meeting in your block, take this class and learn from the best how to do it yourself. Then you can bring it to more of your neighbors.
Map Your Neighborhood (MYN) connects individual preparedness with preparedness on your block. Know who your neighbors are, who might need special assistance, and who might have special skills or equipment to help your neighbors in a disaster. When the emergency responders are overwhelmed, we will only have each other to rely on.
The 9-Step program is easy and covers what to do both at home and then on your block in the first 60 minutes after disaster strikes. Practicing makes it even easier.
The "Map Your Neighborhood" program was developed by LuAn Johnson, PhD  of SPAN Disaster Services in Seattle. It is endorsed and promoted by the American Red Cross.  The program is in use throughout the US including Los Angeles as  "Ready Your LA Neighborhood" . Map Your Neighborhood is also being integrated into the Los Angeles CERT Battalion 2 Master Plan. MYN is designed to bridge Community Emergency Response Team training (CERT) and individual preparedness.
MYN is implemented through an interactive meeting  with 10-20  neighbors in one of their homes. A 9-step program is clearly laid out through informational videos that are watched and paused to develop simple maps and  invaluable lists on the spot.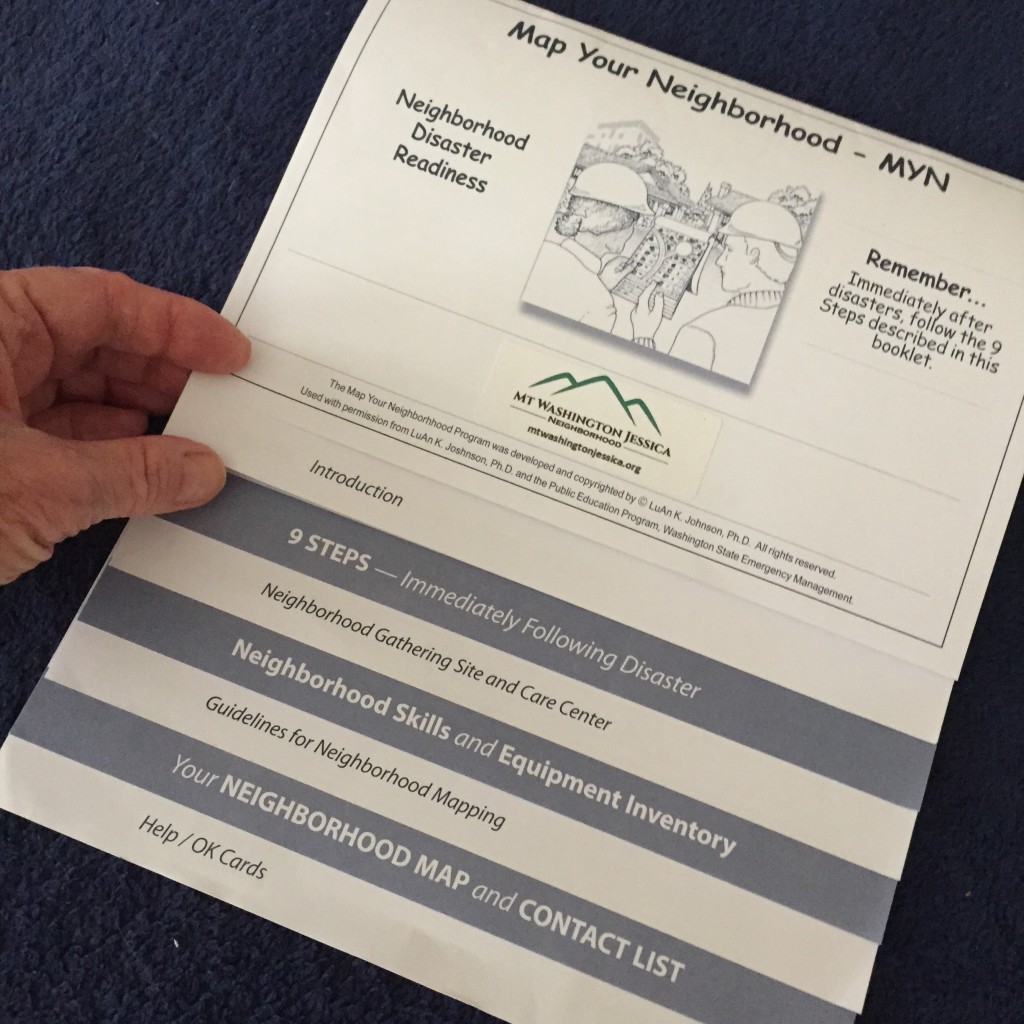 Everyone leaves with a custom booklet to keep under the bed for emergencies. The entire process takes only about 2 1/2 hours and participants leave both more prepared and better knowing their neighbors.
MWJN has 13 organized MYN blocks. To find out what block you're in or to start a new block, contact us at info@mtwashingtonjessica.org.
Map Your Neighborhood program has taught us personally what social science research concludes: the more people in a neighborhood know each other's first names, the stronger the neighborhood will be. So start getting prepared by coming to our potluck on Saturday, June 15!
Find out more.